Taking your business to bigger heights requires a lot of time and effort on your part. You can bring in greater productivity with the help of a flexible information management tool such as EssentialPIM which acts as a holistic solution by storing contacts, tasks, calendar, appointment, email, contacts, and notes data under one roof. Since the data remains stored in a scalable database, you can easily search for and filter out the information you require at one go.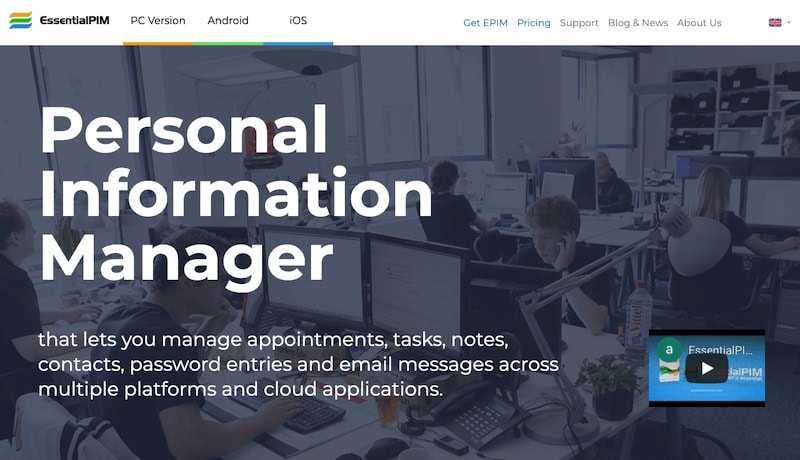 Data Consolidation & Synchronisation
Gone are the days when you had to toggle between applications and devices as EssentialPIM can store all your required information under one roof. Full tagging support allows categorizing data according to ongoing assignments and treating them as a single project. It also makes sure that changes made in one field get replicated in the other.
Thus, if you change your appointment date, the same will be reflected in your daily task tab. Similarly, if the credentials of any of your contacts change, this will also be applicable in the mail module while trying to send mail communications. Users can sync data with different cloud services like Dropbox, iCloud, Office 365/Outlook.com, ownCloud, Google calendar, etc. Local network sync is another excellent attribute of EssentialPIM which can suffice users who do not wish to sync their data over the Internet. But for local syncing, you will require either a Wi-Fi or local network connection.
Email Management
Corporates often maintain multiple emails and keeping tabs over all of them can be a difficult task. EssentialPIM can cater to the same with stellar email management solutions. After launching the app, you will simply have to select the mail module and set up the email account. Multiple accounts can be added for accessing all your emails under one roof. An integrated search functionality helps in quickly finding emails for staying productive at all times. The emails can further be customized with templates and signatures for a professional look and feel.
Smart Device Compatibility
Smartphones and tabs are evolving into an important part of our life. EssentialPIM is also available for download on Android and iOS devices. It's more like having your secretary around at all times with the only difference of marginalized expense and complete protection against errors. Just like the PC version, you can expect full data synchronization with both the Android and iOS variants. Android users can colour-code the data for making them more aesthetically pleasing. Flexible data organization in tree-like structures helps while comparing the same. This can help managers evaluate the target achievement of different employees before increment sessions. Suppose there is a particular module which you use more than the others. In such a case, you can place a shortcut of this module on your home screen for one-click access. This advertisement-free app can be locked using a password or fingerprint sensor.
A separate app is available for iPad and iPhone which also organizes data into hierarchical tree-like structures. A self-locking mechanism can offer you a higher level of security especially while storing sensitive data.
User-Friendly Interface
If you have been using Microsoft Outlook lately, then you are bound to feel at ease with the interface of EssentialPIM which comes in both dark and light themes for catering to the individual requirements of users. However, it can guarantee stellar functionality irrespective of a streamlined look and feel which is immensely preferred by novice users. Everything remains organized in section and you can drag the borders for getting personalized results. While the main modules are neatly stacked at the left, the menus can be accessed in a drop-down form at the top portion of the screen. For greater usability, a calendar is placed at the bottom left corner so that you can enjoy a bird's eye view over your upcoming schedule by clicking on the corresponding date.
Safety
Often users have second thoughts about storing sensitive data such as bank credentials and similar information over online portals given the inherent security threat. But EssentialPIM can offer you complete peace of mind as the data is encrypted using the AES (Rijndael) 256-bit key. SSL technology protects synchronization with cloud services. This is the same technology that is used in the fields of online banking. Users can also select specific data they wish to protect and secure the same with a password. This feature is extremely crucial in a setup where the same software is used remotely by office executives. EssentialPIM Pro offers 8 encryption algorithms for the end-users to take their pick from including Triple DES, Square, Twofish, and Blowfish other than AES (Rijndael).
Cloud Solutions
Cloud storage has evolved into one of the most viable online data storage solutions of the present millennia. Given the current pandemic, everyone is trying to get the work done from home. But can you imagine the trouble it might cause if the work files were locally stored in your office computer?
In such a scenario, cloud solutions can serve as the absolute nirvana for users by allowing them remote access and also helping in keeping the hard disk or local storage clutter-free. EPIM cloud can synchronize different types of data pertaining to contacts, notes, calendars, passwords, and tasks while backing it up regularly in its reliable and secure private cloud. It is imperative to note here that all the data gets replicated nightly to guarantee you complete peace of mind. The data can be accessed through cloud.essentialpim.com web browser without having to download the software separately.
Multiple Language Support
You can benefit from using EssentialPIM even if you are not a native English speaker. It is available in 26 different languages such as Turkish, Spanish, Portuguese, Chinese, Dutch, German, Russian, French, and many more.
Conclusion
If you are someone who has been missing out on appointments, forgetting to send emails and mixing up task allocation, then you need to download this cross-platform tool. Its portable nature allows reaping massive benefits on the go. This can especially help users who do not wish to proceed with the software download in their local storage as it can be used directly from a USB drive and similar portable devices. The best thing about EssentialPIM undoubtedly is that it doesn't leave any trace on the computer as everything remains stored in a particular folder in the flash drive.