If you are using LastPass, probably you are updating a password or taking a note, this error message might show up, Error: Invalid Response. Some users experience this error while logging into a new Website. Lastpass offers to save the password but when you press save, it gives you an Invalid Response Error.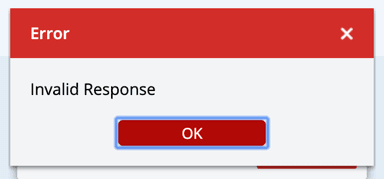 This error is reportedly prevalent when you are using the Lastpass Chrome extension. The number one reason for this points back to the software's faulty handling of multiple active Lastpass sessions.
LastPass is a critical tool to most of us, as it contains our usernames and passwords. Getting an error like this is pretty frustrating. So, let's deal with this Invalid Response error once and for all.
How to Fix ERROR: Invalid Response in Lastpass?
Method 1 – Clear the Local Cache for LastPass Vault
Removing the LastPass Local Cache can be used as a troubleshooting step if problems occur while loading the Lastpass Vault. If you delete the local cache, delete the locally saved copy of the encrypted data. To recreate the local cache, disconnect from LastPass and then reconnect if you are connected to the Internet.
Once the local cache has been cleared, it is strongly recommended that you connect immediately to recover these files, including restoring access to your Recovery One Time Password.
If You Are Using the LastPass Web Browser Extension:
When you are connected to LastPass, click on the active LastPass icon on the toolbar and then perform one of the following actions (depending on your web browsing experience).
To force the storage data to synchronize, go to Advanced > Advanced > Clear Local Cache.
To force the storage data to synchronize, go to Account Options > Advanced > Clear local cache.
After deleting, log out and log back in to restore the local cache.
If You Are Using LastPass for Windows App:
Click on the LastPass icon in the taskbar.
Go to Tools > Clear local cache.
After uninstalling, disconnect and reconnect the application to restore the local cache.
Method 2 – Additional Instructions for LastPass for Chrome
If you use the LastPass web browser extension for Chrome, you must also enable this setting to allow access to LastPass in all locations. If this is disabled, errors like this could occur.
Open the Chrome web browser window and go to:
chrome://extensions/?id=hdokiejnpimakedhajhdlcegeplioahd.
2. Press the toggle button to enable this setting in all places.
Method 3 – Clear your Browser's Cookies and Cache
Resetting the browser cache solves many of the problems associated with extensions. Therefore, this is one of the recommended ways to solve the problem of incorrect answer when using Lastpass.
For Chrome Browser:
Three configuration menu items are displayed in the upper right corner of the browser.
Scroll down and press the "Advanced" button.
Click on the "Delete navigation data" section.
In the "All cookies and website data" section, you can specify which cookies should be deleted according to the time period and other parameters.
Finally, you can complete the deletion by clicking on the "Delete data" button.
You can also clear the cache where your computer stores previously visited websites so that you can download them more quickly when you visit them again.
Method 4 – Kill Active LastPass Sessions
You can view all the devices and IP addresses where you accessed your LastPass account. If you left an account open on another device or are not sure if it is open, you can view all active sessions as follows:
On your web browser toolbar, click the LastPass > Other Options > Advanced Tools > Other Sessions icon. Select one of the following options:
Kill Selected Sessions – select the check box for each session you want to delete, and then click Finish tested sessions.
Kill all but current session – To delete all sessions except the one you are active in, click Finish All except the current session.
For all completed sessions, you will be prompted to log in to LastPass to access your account from this device and/or your web browser.
Method 5 – Updating the LastPass Web Browser Extension
Download the latest version of LastPass web browser extension, log in and try again.
Updating Lastpass web browser depends on whether you are using LastPass for Chrome, LastPass for Safari, LastPass for Firefox or LastPass for Opera. Check your browser's extension store to get the latest Lastpass version.