It is so convenient to have everything right in the palm of your hands. When you need to take note of something, you can just pop your Samsung Notes app open. You can always store more information in the app and make retrieval a breeze and in seconds.
But, it is not comforting to discover that your Samsung Notes app is not working or won't open when you need it. The Android note-taking app keeps on crashing, freezing, and stopping, so you can't access all your notes. There are times when it loads fine, but it is not showing any text.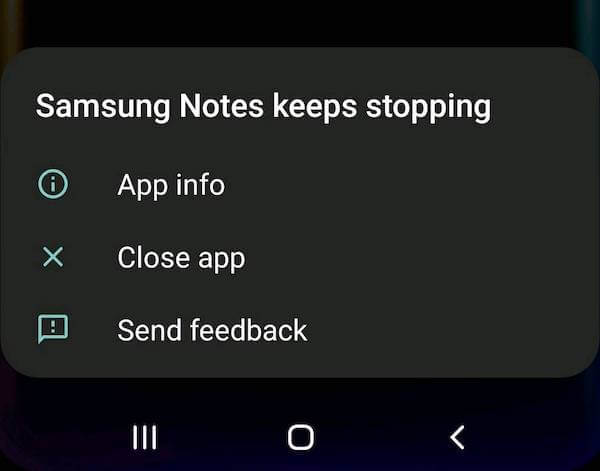 Fortunately, there are ways for you to troubleshoot and fix the problem on your Samsung Galaxy phone or tablet and other Android devices. It may be an error with the app or with other factors yet to reveal themselves. But the good news is that you can have it right back to normal with a few tweaks and workarounds.
TODAY'S DEALS: Get the best offers on the latest Samsung Galaxy phones at Amazon or Walmart!
Fix Samsung Notes Android App Keeps Crashing, Freezing, Stopping, or Not Working Issue on Samsung Galaxy Phone or Tablet
Here are the solutions on how you can troubleshoot and resolve the issue on your Samsung Notes app. You can do the methods one at a time and check if it resolves the problem or not on your smartphone or tablet.
Solution #1 – Restart the Samsung Notes App
Your Samsung Notes app may keep on stopping. But sometimes, refreshing it several times will bring it back to normal. You can try to reboot the app twice. If it does not work, you can try the next method below.
Solution #2 – Reboot your Samsung Galaxy Smartphone or Tablet
If restarting the Samsung Notes app does not work, it may need a quick reboot of your Samsung Galaxy phone or tablet device. Exit all running apps on your Samsung device. Power your device off and wait for a few minutes. Then, restart it and relaunch the Samsung Notes app.
Solution #3 – Update your Samsung Notes App
You may have missed out on important updates to your Samsung Notes app. Go to the Google Play Store or Galaxy Store and look for Samsung Notes. Check if there are available updates, then download and install them.
DON'T MISS: Android tablets are on sale at Amazon, Walmart & Best Buy!
Solution #4 – Clear the App Cache Data of your Samsung Notes
Launch the Settings menu.
Go to Apps.
Select Samsung Notes.
Navigate to Storage.
Tap Clear Cache.
Solution #5 – Disable Sync on your Samsung Cloud
Open the Settings menu of your Samsung device.
Navigate to Accounts and backup.
Select Samsung Cloud.
Tap Synced Apps.
Go to the Samsung Notes section.
Next to Sync On, toggle the button to Off.
Which one of the methods above fixed your Samsung Note crashing or freezing error? We would love to know what works. You can drop us a comment below.
NEED A NEW PHONE? Check out these amazing deals on new Android phones at Walmart & Amazon!