If you're using Google Chrome as a password manager then it's time for you to know that it's a bad idea. Hackers can get into your computer and take over your browser including every saved password you stored in Chrome.
In this day and age, password managers are a norm. There are various options for you to try out that can help you protect your passwords efficiently and without a fuss. Options include LastPass and 1Password. If you have decided which one to use, then all is left is for you to know how to export those saved passwords from Chrome and place them in a more secure location.
Why Would You Need to Export Your Passwords from Chrome?
Other than the security threat that I mentioned above, there are several other reasons why you might need to export your saved passwords out of Google Chrome. There may be many situations where you need to export and backup passwords but here are some of them:
You are changing from one computer to another.
You are moving from Windows to Mac or any other operating system.
You want to do a bulk password change for reasons such as someone downloaded your passwords or they've been compromised.
How To Export Passwords from Google Chrome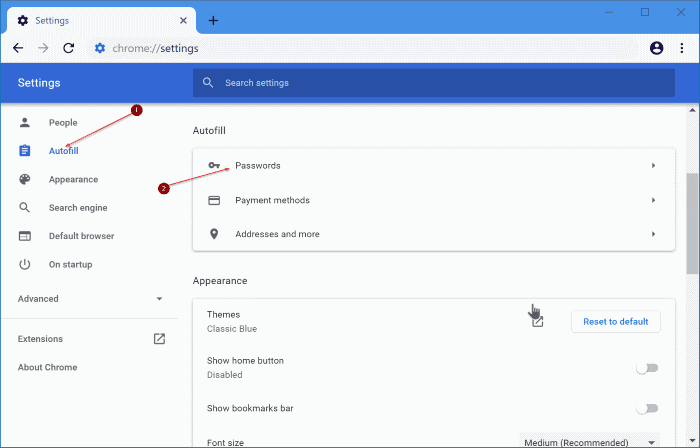 Saved passwords can be exported starting from Chrome 66 and later. These passwords will be saved in a CSV file as plain text so it should be handled with care as anyone with access to it can read all your passwords contained in that file.
Open the Google Chrome browser.
Click on the three-dot menu button (the last button to the right of the toolbar).
On the main menu, click Settings.
Click the Advanced button in the bottom section of the Settings.
As more settings appear, locate the "Passwords and Forms" setting.
Click the "Manage Passwords" link.
On the succeeding page, click the three-dot button above the list of saved passwords.
Now click on the Export Passwords option.
By default, the file is called "Chrome Passwords", but you can always change its name as necessary. The file is saved in CSV format. Click the Save button and the file will be created automatically. If you click the Save button, Chrome will not display a message saying that the file was created.
Go to Windows File Manager and click Documents to display the file you just created. Click the file to see if the passwords are saved correctly. Windows will ask you how you want to open the file. Click on the application of your choice and you should see the website, your username and password.
As part of the security, Chrome will ask you to enter your current Windows password to complete the process. This will protect your Chrome passwords from anyone who has access to your PC if it is unlocked.
Conclusion
That's it. You can then start importing the CSV file to the password manager of your choice.
Always use a good password manager to store your passwords. It is not recommended to use the browser as a password manager.