There are a lot of functions that an Apple Watch can offer which is why many parents also want their kids to have one. However, not all children have an iPhone or iPad where they can link their Apple Watch. Good thing Apple introduced the Apple Watch Family Setup, where parents can link all the Apple Watch in their family into one paired iPhone only.
Parents can now set up expensive Apple Watches for their kids and even older loved ones on their iPhone manually so that they can use it in full functions. After setup, each Apple Watch will function independently, like any other Apple Watch.
DON'T MISS: Amazing deals on the latest Apple Watch models at Amazon & Walmart!
Functions of Apple Watch Family Setup
With the Apple Watch Family Setup, linked Apple Watch can have their own phone number and accounts. They can continue to use features like Emergency SOS and FaceTime. Your kids and older loved ones can also read messages and call other people. The Apple Watches uses built-in cellular connectivity.
What's more appealing with the Family Setup is the parental controls via the paired iPhone. Parents can manage their kid's contacts or block apps that are not appropriate. They can also access the Apple Watch and get notifications. In some Apple Watch Family Setup, they can also send money via Apple Pay.
How to Set up Apple Watch for your Kids or Family Members without an iPhone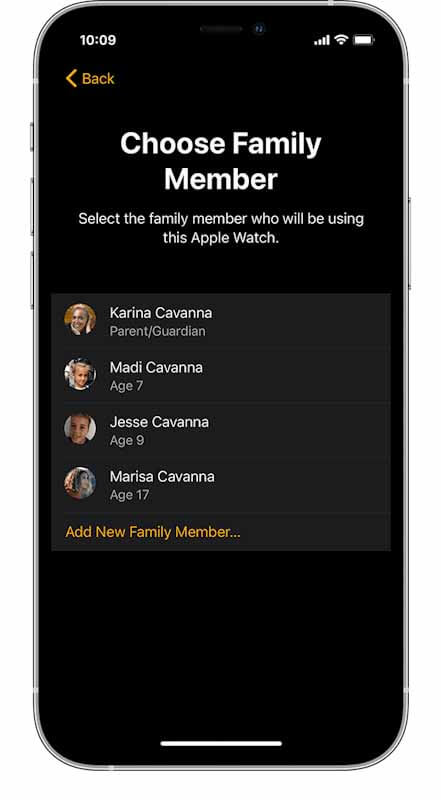 Unfortunately, the Apple Watch Family Setup is available on selected Apple Watch models. Only Apple Watch Series 4 and later can use the Apple Watch Family Setup. Before using it, make sure the watch is running on watchOS 7 or later. You also need an iPhone 6s and newer ones running on iOS 14 and later.
Launch the Settings menu of your iPhone.
Tap your Apple ID.
Go to Set Up Family Sharing.
Select Get Started.
Choose the features that you want to share.
Tap Continue.
Choose a Shared Payment method.
Tap Continue.
Select Invite Family Members.
Enter your security number.
Tap Next.
Now, enter the Apple IDs of your family members.
Tap Send.
Tap Done.
Your family members will need to accept the invite to link their Apple ID.
How to Use Apple Watch Family Setup Feature
It is easy to use the Apple Watch Family Setup. Follow the steps below.
First, your loved ones must wear their Apple Watches properly.
On the Apple Watch, press and hold the side button until the Apple logo appears.
Enable the WiFi and Bluetooth on your iPhone.
Go to the Apple Watch App.
Select All Watches.
Tap Pair New Watch.
Now, bring your Apple Watch and iPhone near each other for pairing.
Select Set Up for a Family Member.
Tap Continue.
Allow your phone to scan the Apple Watch.
Tap Set Up Apple Watch.
Follow the rest of the instructions.
How do you like using the Apple Watch Family Setup feature on your iOS device? We would love to know your thoughts! You can drop us one below.
TODAY'S DEALS: Check out these limited-time offers on the latest Apple Watch devices at Amazon & Walmart!