Booting up the Starbucks app or heading to their website only to get hit with the dreaded 'We're sorry, a system error has occurred. Please try again later.' error message can ruin your Starbucks run. But don't despair – this server connectivity or login issue can often be fixed with a few troubleshooting steps.
This vague error prevents access to your Starbucks account, blocking you from reloading balances, earning Rewards, or placing mobile orders. But never fear – solving this is possible if you follow some targeted troubleshooting advice.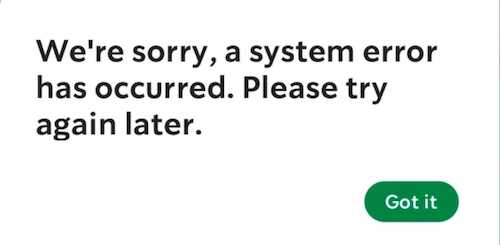 How to Troubleshoot and Fix Starbucks App or Website 'A System Error Has Occurred' Account Issue
1. Clear App Cache and Data
The first step is to clear out the cached data and files on the Starbucks app itself on your mobile phone. This removes any corrupted temporary files that may be interfering with logging in.
On your mobile device, go to Settings > Apps > Starbucks. Next, tap Storage & Cache, then choose to Clear Cache followed by Clear Storage. Wiping the slate clean often resolves app issues.
2. Reset your Starbucks Account Password
Some users have reported success fixing the error by simply resetting their Starbucks password. Interestingly, removing any percent symbols (%) from passwords on the website sometimes does the trick.
Resetting gets you a fresh start with new login credentials that aren't tripping up the error. Go to the Starbucks website and use Forgot Password if needed.
3. Disable your VPN Service
If you access Starbucks through a VPN, this could be the culprit. VPN connections can cause conflicts that prevent properly logging in.
Turn off your VPN and try Starbucks again normally. If it works, something with the VPN is interfering. You can enable it again after accessing your account.
If you need a reliable VPN provider, check out these services:
4. Contact Starbucks Customer Support
If you still get the System Error after trying these steps, contact Starbucks tech support. Explain when the error appears and what troubleshooting you've tried already.
Provide your Starbucks account info so they can investigate issues on their end. Their experts may have specialized tools and access to resolve login problems. Don't hesitate to reach out!
5. Keep Device Software and App Updated
As a rule of thumb, make sure to keep your device OS and apps updated to the latest versions. Running outdated software often breeds technical issues down the line.
Regularly installing updates ensures you have all the newest security patches and bug fixes. Don't let your phone, computer, or Starbucks app get too far behind!
6. Check Public Network Access
Using public WiFi or a workplace/school network? They often have firewalls, proxies, or security in place that can interfere with outside apps like Starbucks.
See if you can access Starbucks normally using a personal WiFi or mobile data connection instead. That will confirm whether the network itself is tripping things up.
7. Reinstall the Starbucks App on your Mobile Phone
If you still can't get into your account after all this, uninstall and reinstall the Starbucks app. Corrupt files from a bad install can sometimes cause persistent errors.
Download the latest app version fresh from the app store. Entering your details again on a clean slate often solves quirky issues.
With some dedicated troubleshooting, you can likely fix the Starbucks login error yourself. But if not, their support team is there to help get your account working again. Never settle for coffee less than perfect!