PowerPoint presentations are helpful when you want to pitch a business idea or present a school report. But, wouldn't it be nicer to use modern fonts on your presentations instead of the default fonts we see in Microsoft PowerPoint?
There are a lot of beautiful fonts we come across online. Now, it is also possible for you to embed these fonts and use them for free on your PowerPoint presentations thanks to Google Fonts.
Read on to learn more about it.
Why Use Google Fonts in Your PowerPoint Presentations
Here are some benefits you can get when you use Google Fonts in your PowerPoint presentations.
It gives you more choices of fonts for your presentations. Google offers hundreds of fonts that you can mix and match on any of your presentations, may it be formal or informal.
The fonts are unique so you can make your presentation more appealing and exclusive. You create a fresh impression using your new fonts.
It is free. What better way to convince you to embed Google Fonts than saying that it is completely free!
How to Download Google Fonts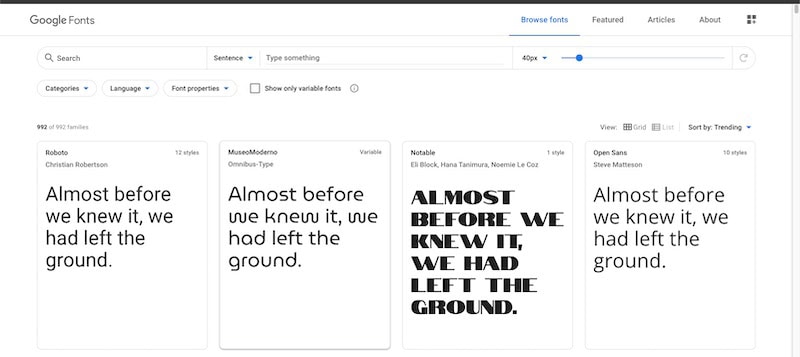 Before you can embed the fonts in your presentation, you will need to download them first.
Go to https://fonts.google.com/.
Browse through the different fonts and click to the font you like to check out the styles.
If you want to download it, click Download family.
The files will be downloaded as zip files. You will need to unzip the file to install the font on your computer.
Embedding Google Fonts in PowerPoint Presentations
Open your Powerpoint.
Go to the File tab and click Options.
Select Save when a dialog box opens.
Look for Preserve fidelity when sharing this presentation.
Check the embed fonts in the file option.
Click embed all characters, so you can use the fonts in all of your presentations.
Now, the fonts you chose are included in your PowerPoint. Embedding your selected fonts will save them in your presentation, so even if you will have to use another computer to open your presentation, the fonts are retained.
What Google font style do you want to embed in your PowerPoint presentation? Let us know in the comments below.