Online presence is the in thing today as more people venture into digital marketing and online communication. You need to find yourself more comfortable in front of the camera to get on the digital bandwagon and not get left behind. Video conferencing, social media and online forums may need you to come out of your shell and be present digitally.
When you have to attend an online class video call, a conference meeting, or even a scheduled love stream, you need to access your webcam or external digital camera device. But, it adds up to your frustration of going live online when your webcam is not working at all. Instead of showing your face, all you see is the error message, "We can't find your webcam. Error Code: 0xa00f4244 NoCamerasAreAttached."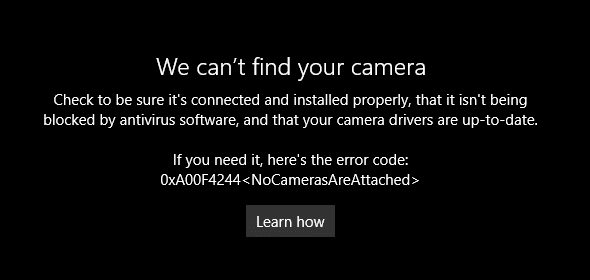 It happens when your app or PC cannot detect or locate your webcam. The error code NoCamerasAreAttached can be a hardware issue, a driver problem, or your antivirus meddling in your app. The good thing is that you can fix the error 0xa00f4244 with several solutions below.
DON'T MISS: Check out these limited-time deals on webcams at Amazon!
How to Troubleshoot & Resolve 0xa00f4244 No Cameras Are Attached Error Code on Windows 10
There are different possible reasons why your Windows 10 computer cannot detect or use your laptop's internet webcam or an external camera. The issue mostly occurs on popular laptop computers from HP, Lenovo, and Toshiba. Some people also report that their webcam is missing from the Device Manager.
But, the important thing right now is for you to troubleshoot and eventually fix the issue and get back to your conference meeting or live stream. Follow each of the methods below to resolve the 0xa00f4244 No Cameras Are Attached webcam problem.
Solution #1 – Restart your Video Conferencing App
Sorry for all your coworkers or friends that you have to meet on your conference call. You can relaunch the app to refresh the process and hope to restore your webcam usability. Exit the video conferencing app you are using and wait for a few seconds before relaunching it. Check if the camera now works.
Solution #2 – Close Other Apps Running in the Background
Your webcam or external camera device might be being used somewhere else other than your app right now. Sometimes, your computer or app cannot detect your hardware if you are using it with other apps as well. Exit the apps that are running in the background to close the camera app. Then, try relaunching the webcam on the app you are currently using.
CHECK OUT: Best offers on the latest Windows laptops with amazing built-in camera features!
Solution #3 – Allow Access to your Camera
Launch the Settings menu of your PC.
Go to Privacy.
Select Camera.
Look for the Allow access to the camera on the device option.
Click Change.
Turn On Camera access for this device option.
Look for the Allow apps to access your camera option.
Set it to On.
Go to the Choose which Microsoft Store apps can access your camera option.
Look for the Camera and turn it On.
Reboot your PC and try relaunching your webcam.
Solution #4 – Modify Camera Setting via Registry Editor
Click the Start button.
Select Run.
Enter regedit.
Navigate to this path: HKEY_LOCAL_MACHINE\SOFTWARE\WOW6432Node\Microsoft\Windows Media Foundation\Platform
Right-click on an empty space and select New.
Click DWORD (32-bit) Value.
Set the name to EnableFrameServerMode.
Next, right-click the EnableFrameServerMode folder.
Select Modify.
Set the Value Data to 0.
Click OK.
Reboot your PC.
Solution #5 – Update your Webcam Drivers
Open the Device Manager.
Look for your webcam, and right-click on it.
Select Properties.
Navigate to the Driver tab.
Select Update Driver.
Follow the instructions to update your device driver.
For some users, scanning their computers with anti-virus or anti-malware software helped mitigate the issue. It turned out, problems like these can also be caused by a malware infection on a PC.
Did any of the methods above fixed your camera problem on Windows 10? If not, what else did you do to get rid of the issue? You can share your solutions with us for other users to know about them as well. Please write to us in the comment section below.