Microsoft Teams enables you to communicate with your group or co-workers online and in real-time. With its video conferencing features and online collaboration tools, it is a reliable platform for those who are working remotely. One of the functions that you can do in Microsoft Teams is to create a group or one-on-one chat with anyone in your team.
However, there may be times when some chat messages are no longer relevant or useful for you. While these conversations remain undisturbed when you do not open them, they may clutter your chat space, especially if you are browsing through other chat groups constantly.
Fortunately, you can hide or delete the chat messages to manage your conversations in your Microsoft Teams account with only a few steps. Let's check out the steps below.
Difference Between Hiding and Deleting Chat Conversations in Microsoft Teams
There is a difference between hiding your chat messages and deleting them entirely. When you hide a conversation, you have the option to unhide it and retain previous messages in the future. However, if you choose to delete the chat, you end up not seeing it anymore and creating a new conversation with another user or group.
How to Hide or Unhide Chat Messages in Microsoft Teams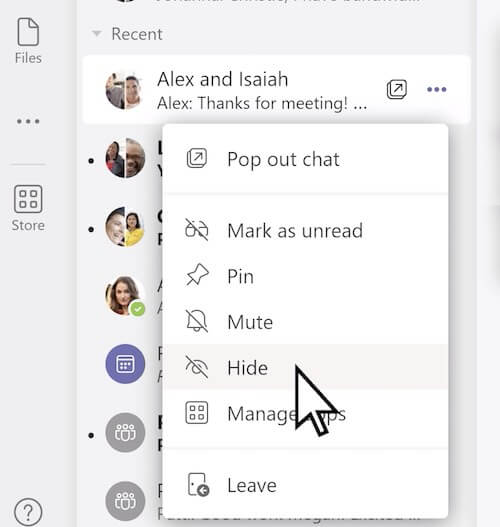 Hiding the conversations allows you to unhide them later on if you need them back on your chat board. Hidden chats are simply put aside from view and can easily be accessed when needed. It will also show up again when someone sends a new message.
Open your Microsoft Teams app and go to the Chat options.
Look for the conversation that you want to hide.
Click or tap the three-dotted icon or the More Options button.
Select Hide.
If you want to unhide or view a hidden chat message in Microsoft Teams, navigate to the restored chat.
Click or tap the More Options button.
Select Unhide.
How to Delete a Chat Message in your Microsoft Teams Account
Note that when you delete a chat conversation, you are only removing it on your part. Other participants can still view and access your chat. They will not know that you deleted the conversation, but you appear to have left the chat message. Everything in the chat conversation remains with the other participants, including links and attached files.
In your Microsoft Teams chat box, look for the conversation you want to delete.
Click or tap the More Options button.
Choose Delete.
Why do you want to delete or hide a chat message in Microsoft Teams? We value your opinion, so please write to us in the comment section below.