It helps not to send an email right away. Maybe you are awake in the wee hours of the morning and you feel like creating or answering an email.
But, sending a message at 2 am is not a practical idea. What you can do is to schedule sending your emails at a more appropriate time.
You can schedule sending your email messages for later using Outlook, Gmail, or the Apple Mail. If you want to know how to do in all three platforms, check out the methods below.
Sending Scheduled Emails in Gmail
Using a Browser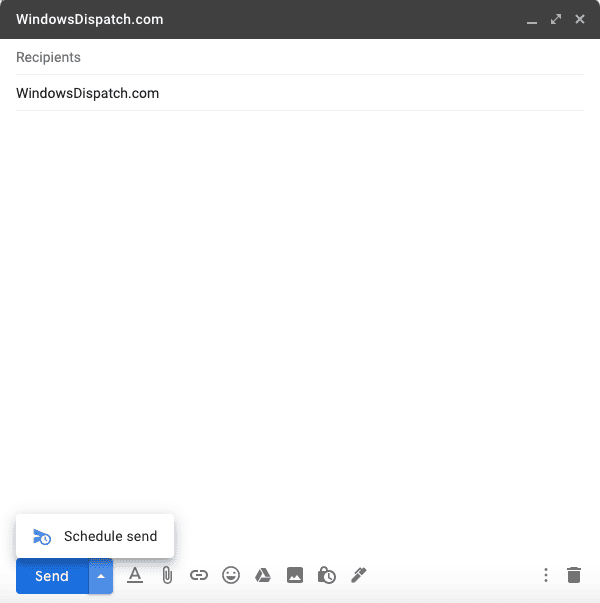 Launch any browser and type gmail.com on the address bar.
Sign in your account if you have not yet signed in before.
Click the Compose button.
Type your email.
After writing your email, look for the Send button.
Click the arrow beside it and click Schedule send.
You will see a list of scheduled dates and times. Click on the schedule you want to send your email. But, if your preferred time and date do not appear, click Pick date & time.
Choose the date and time you want and click Schedule send.
Using the Gmail App
If you are using a Gmail app, launch the app, and select Compose an email.
Type your email and on the upper right corner, tap the three-dotted icon.
From among the options, tap Schedule send.
Now, select the date and time that you want or you can also pick your preferred date.
Schedule Sending Emails in Outlook
Scheduling your sending emails in Outlook is similar to Gmail.
First, launch your Outlook app and compose a new message.
When you are done, go to the Tools ribbon and click Options.
Look for Delay Delivery. If you cannot find the Delay Delivery, click the three-dotted icon to open the drop-down menu and you can see the option.
Go to the Delivery options section.
Check the Do not deliver before checkbox and choose the date and time that you want to schedule the email.
Click Close.
Schedule Sending your Emails using Apple Mail
Setting a schedule in sending your emails using Apple Mail in macOS is more complicated than in Gmail and Outlook. You will need first to compose your email using the Automator.
Go to your Utilities folder and click the Automator app.
Click New Document and choose Application.
On the left side, click Mail.
Hover to the right side and look for the New Mail Message action.
Click and hold it while dragging to your workflow. You can also double-click the option.
Now, compose your message.
Look for the Send Outgoing Mail action and drag it to your workflow.
Click Save.
Open your Calendar app.
Click New.
Set the time and date that you want to send the email.
Click Open file and choose Other.
Look for your Automator workflow and save it to your event.
That's it! Now, you don't have to wait for the right time to send your emails. Compose your emails anytime you want and schedule it to go off only on the best times that you choose. Do you also schedule your emails? Tell us more in the comments below.