Online collaboration is becoming easier and more integrated thanks to constant tool upgrades. Sharing documents and files, creating schedules, and merging work output is possible even when you and your team are working remotely.
Recently, Google released a new enhancement that will allow users to connect with other people. It is faster and more effective to search and find people by inserting only @ into your files. Type @ in your document, and you will see richer information on people's content, files, and meeting details.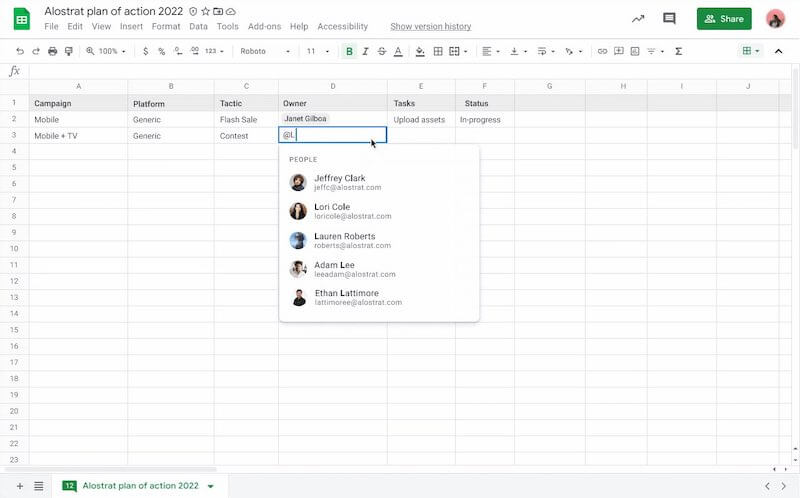 Now, Google is adding people chips into Google Sheets. Since the previous update was applicable with Google Docs, users can see it on their Google Sheets spreadsheet. You can enjoy the same functionality and make your collaboration and work performance more efficient.
How to Use People Chips Feature Directly on Google Sheets to Keep Track of your Colleagues
Using the people chips directly on a Google Sheets spreadsheet takes only a few steps.
All you have to do is type @ inside a cell in your spreadsheet.
Then, select the person that appears, or you can type the first letter if you have a person in mind.
After clicking on the person's name, you will be able to view their information.
You can see their job title, contact details, locations, and other personal data.
Aside from typing @ in your cells, there is also another way to access the people chips. On the menu bar, click the Insert tab. Select People chip.
The people chips also let you manage your Google Meet meetings, create a chat group, or send an email. It helps you make your work faster and simpler than doing everything from scratch. You can even keep track of people by using the people chips function.
Note that the people chips tool is available to all personal Google accounts and Google Workspace users.
How do you like working on your Google Sheets with people chips? Is it useful for you? We value your opinion, so tell us more about your thoughts in the comment section below.