Think it is easy to just delete or close your Skype account? Unfortunately, Microsoft does not allow you to do so. While you may feel annoyed about not having full liberty on what you want to do with your account, it is also a good way to avoid accidental account deletion or hacking. At the same time, Microsoft also integrated your Skype account with your Microsoft account. You cannot simply unlink or disconnect your Skype account from your Microsoft account. Suffice to say that you can't delete your Skype account without removing your Microsoft account and information.
Permanent deletion of accounts should not be taken lightly. You have to make sure that it is what you need as of the moment before you try to deactivate or remove your Skype account forever. In some cases, users choose to delete their Skype account when others harass them via Skype. You may also need to remove your Skype account from other users to open a new one or use some other similar video conferencing service for your meetings.
What it Means to Deactivate, Delete or Close your Skype Messenger Account
Before you head on to the steps on how to delete your Skype account, you must take note of the following considerations. Deleting your account will remove all data formed from it. That means all chat messages, video calls, and audio call logs will be gone. It will also remove history and the contact list.
Since you will need to delete your Microsoft account when you want to deactivate your Skype account, you will also be deleting other Microsoft services. You will no longer access your OneDrive, Xbox Live, Microsoft purchases, and other services.
What happens if you change your mind? Fortunately, Microsoft gives you a time allowance to rethink your decision. Even if you did delete your Microsoft account, you still have 60 days to restore it. You can go back to your account just the way you left it. However, if you go beyond the 60-day waiting period, you can no longer file for cancelation of closure. Microsoft will be unable to retrieve your account.
Steps to Permanently Delete Your Skype Account through your Microsoft Account on Mobile or Computer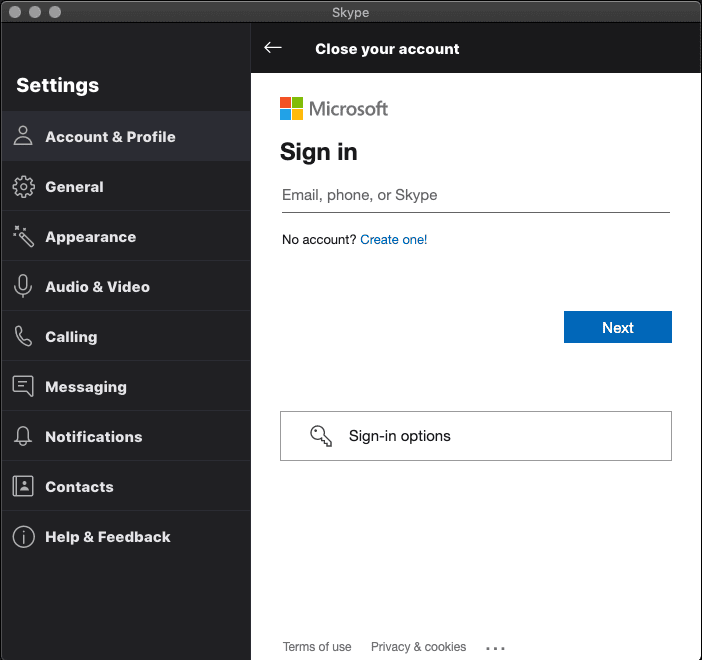 Now, if you still want to close and remove your Skype account permanently, the steps are easy. But, you need to prepare all your data under your Microsoft account first before you delete it. Save any file or information that you want to hold on to from other Microsoft services. You can take a screenshot of your Skype messages and check your OneDrive for files that you need to download to your local folder. If you're ready to do it, here's the deletion steps. You can initiate the Skype account closure process using your iPhone, iPad or Android mobile app or through Mac or Windows 10 desktop app settings. Users can also utilize the Skype or Microsoft website to delete their accounts.
Open the Skype app on your Windows 10 or Mac computer or iOS or Android mobile device.
In the upper left corner, click your Skype name.
Select Settings.
Scroll down on the right side.
Select Close your account.
Enter your username and password.
Click Next and then verify your account ownership.
Select the reason for closing your Skype account.
Click Mark account for closure.
To initiate the process to close your account through the Skype or Microsoft website, simply go to http://go.microsoft.com/fwlink/?LinkId=523898.
How to Cancel your Skype Subscription
If you want to delete your Skype account, you also need to cancel any of your Skype subscription plan. Make sure that any recurring payments or auto-recharge arrangements are disabled or canceled to avoid getting charged for the service you don't use.
What is your reason for deleting your Skype account? We value your opinion, so please tell us in the comment section below.