If you see a yellow triangle appearing on your screen, it simply means that there is a warning notification from your Windows security app.
Windows 10's built-in reliable antivirus, Windows Defender, has a lot of cool and helpful features. One of them is it constantly searches for threats on your computer, something we expect from any formidable anti-virus software.
However, not only that, Windows Defender also automatically submits the threat reports to the Microsoft which might make some privacy-sensitive users to cringe.
The Automatic Sample Submissions will send suspicious files to the developer for analysis. These sample submissions are meant to help developers to study the threats and find ways to fix them and protect your computer.
While it sounds helpful, some of these files may include users' private details. If you feel uncomfortable sharing these data, you can easily disable the sample submission.
How to Disable Automatic Sample Submission in Windows Defender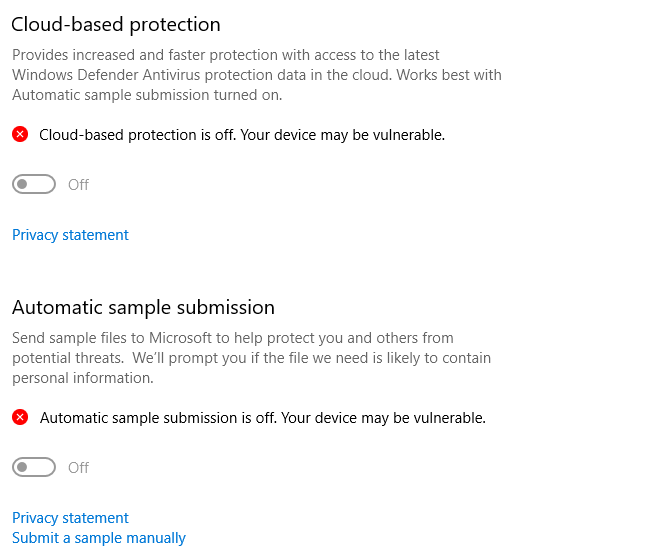 Via Windows Security App
Launch the Windows Security App. You can also click Start and type Windows Security App on the search box.
Next, click Virus & threat protection.
Under Virus & threat protection settings, click Manage settings.
Look for Cloud-delivered protection.
Toggle the button to Off to disable protection.
Look for Automatic sample submission.
Toggle the button to Off to disable the feature. You can always enable it by toggling to On.
Restart your computer.
Via Registry Editor
Press Windows key + R to launch Run dialog box.
Type regedit and click Enter.
Navigate to this path: HKEY_LOCAL_MACHINE\SOFTWARE\Policies\Microsoft\Windows Defender
Look for the Windows Defender key. Create a new key.
Rename the new key to Spynet.
On the right side, create a new DWORD SubmitSamplesConsent.
Set the value to 2.
Next, create a new DWORD SpynetReporting.
Set the value to 0.
Now, you have the option to turn your automatic sample submission and cloud-delivered protection on or off. Keep in mind that after turning both features off, you will receive a notification that your device may be vulnerable to threats.
Did the methods above help you? Let us know in the comments below.