Do you have an extra third monitor to extend your Windows 10 computer desktop screen display? When one is not enough, you add another to make two called a dual-display system. But, the Windows operating system supports multiple monitor setup. Sometimes, three is better to make things more productive and efficient. A third monitor comes in handy when you have several apps and websites to use simultaneously. It makes you see everything clearly and in one glance without having to close and open the apps and browser tabs that you need.
But, what if this additional screen monitor simply keeps on randomly disconnecting from your PC? Or worse, your third external monitor is not detected or recognized by Windows at all. If it does, it will prevent you from moving forward to your productivity goal. You can fix the issue with several of the solutions below.
NEED A NEW MONITOR? Check out these heavily discounted PC monitors at Amazon right now!
Troubleshoot & Fix Third External Monitor Display Randomly Disconnecting or Not Detected in Windows 10 PC
There are different ways for you to deal with the third monitor or multi-monitor display issue on your Windows 10 PC. You can try to follow each of the solutions below one at a time. These methods will work whether your extended screen is sporadically disconnected, not detected or recognized, or your multi-display screen setup just goes through loads of problems. Check if any of these methods help you fix the error.
Solution #1 – Update your Display Adapter Drivers
From the Start menu, go to Device Manager.
Look for Display Adapters. Click the down arrow to expand the menu.
Right-click on your driver.
Select Update Driver.
Choose Search automatically for updated driver software.
Wait for Windows to install available updates.
Follow the instructions to complete the update process.
Solution #2 – Check the Windows 10 Display Settings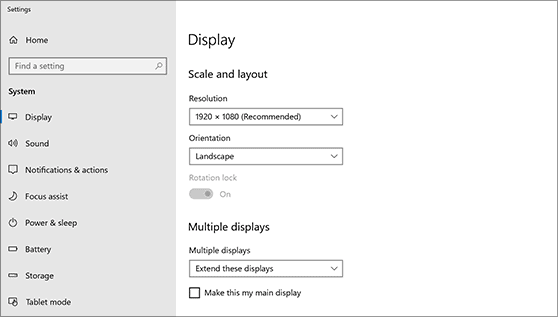 Launch the Settings menu of your Windows 10 PC.
Go to System.
Select Display.
Go to the Multiple displays section.
Check the settings and make sure these are ideal for multiple monitor setup.
Solution #3 – Check if the Extend Option is Selected
On your keyboard, press the Windows key + the letter P.
Now, look for the Extend option. Make sure it is enabled to allow your third monitor.
Solution #4 – Restart your Graphics Driver
On your keyboard, press the Windows Key + Ctrl + Shift + B simultaneously. It will automatically restart your graphics driver. 
TODAY'S DEALS: Get these PC monitors at amazing discounts on Amazon today!
Solution #5 – Roll Back your Display Driver
Navigate to the Device Manager.
Look for Display adapters and expand the menu.
Right-click on your display driver.
Select Properties.
Go to the Driver tab.
Select Roll Back Driver.
Solution #6 – Change your Power Plan
Open the Control Panel.
Go to Hardware and Sound.
Select Power Options.
Select High Performance for your Power Plan.
Click Change Plan Settings.
Set it to Never.
Click the Save changes button.
Solution #7 – Change the Display Resolution
Open the Settings menu.
Select System.
Go to Display.
Navigate to Scale and Layout.
Under Display Resolution, click the drop-down arrow.
Change the resolution of your computer based on what is recommended.
Solution #8 – Update your Windows 10 PC
Go to the Settings menu.
Select Update & Security.
Choose Windows Update.
Click Check for updates.
Do you have other solutions that may work in fixing the third monitor issue on Windows 10? You can share them with other users in the comments below.