One of the top players in online communication is WhatsApp Messenger. You can use it for free when making and receiving audio or video calls from your friends and loved ones. It is easy to use, and you can contact anyone around the world with the WhatsApp messaging app on a mobile device or desktop computer.
But, users complained that they receive an issue when they try to use WhatsApp for their video and audio calls. When they want to activate or turn on their device camera and microphone for video calling, they see the error message,
"WhatsApp could not find a connected audio device. WhatsApp needs an audio output device for calls. Connect one to your computer."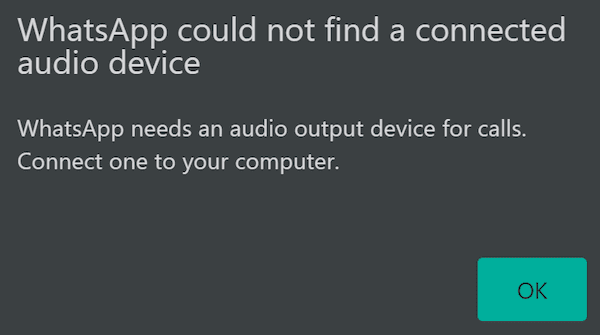 Your PC computer's webcam or audio device can't be found or the WhatsApp Messenger app does not have permission to access the tools. If you also encounter the same problem and your WhatsApp Messenger desktop app for Windows 10 PC is not working, you can continue reading below to find out how to troubleshoot and fix the error.
TODAY'S DEALS: Get these limited-time offers on the newest Windows laptops at Amazon & Walmart!
Resolve WhatsApp Could Not Find a Connected Camera or Audio Device on Windows 10/11 Desktop Computer
There are several ways for you to try and troubleshoot the WhatsApp Messenger camera/webcam and audio missing issue. You can try following each method one at a time and check if it fixes the problem or not.
Method #1 – Restart your Windows Computer
A quick restart will help refresh the process and apps on your Windows 10/11 computer system. Wait for a few seconds before you turn on your PC. You can also try to refresh your Internet network connection by restarting your router.
Method #2 – Allow WhatsApp Permission on Camera and Microphone
On your Windows 10/11 PC, navigate to the Settings menu.
Go to Privacy.
Look for the Camera.
Now, look for WhatsApp.
Toggle the button to Enable or Allow.
You can also enable the Allow apps to access the camera section option.
Go back to Privacy and select Microphone.
Toggle the button to Enable or Allow next to WhatsApp.
Now, go to Allow apps to access the microphone section and enable it.
Method #3 – Update your Camera and Microphone Device Drivers
Click the Start button.
Open the Device Manager.
Go to Imaging Devices.
Look for your camera driver and right-click on it.
Click Update Driver Software.
Go back to Device Manager.
Navigate to Sound, video, and game controllers.
Right-Click on your audio driver.
Select Update Driver.
Method #4 – Install Latest Windows Update
Click the Start button.
Go to Settings.
Select Update & Security.
Click Check for updates.
Download and install available updates.
Restart your computer.
Method #5 – Update your WhatsApp Messenger App
Launch the Microsoft Store.
On the top right corner, click the menu button.
Select Downloads and Updates.
Click Get Updates.
Method #6 – Reinstall WhatsApp Version from WhatsApp Website
If you are using WhatsApp from Microsoft Store, you can try to reinstall a new version that you can download from the official WhatsApp website.
Launch the Settings menu.
Go to Apps.
Look for WhatsApp and highlight it.
Click the Uninstall button.
After uninstalling WhatsApp, go to whatsapp.com/download on your browser.
Install the new version on your PC.
Which of the methods above helped you fix your WhatsApp camera and microphone missing device issue? We would love to know what works, so please drop us a comment below.