Opening several tabs in a browser is nothing new. When we want to preserve a tab for later reading but want to continue searching for other topics, we open another tab. The list goes on until we see our browser filled with at least five tabs.
We may recognize what each tab is all about if we only have a few. But, what if you have more than five and the tabs are squeezed with little information showing?
What is the Tab Previews Feature on Microsoft Edge?
Microsoft Edge offers a tab preview feature that will allow you to know what each tab contains when you hover over it. It will show the name of the website and a short description in the tab.
It is helpful to have this feature so you do not have to click on each tab just to know what it contains. But, some people find it distracting if they only have a few tabs. Showing an image every time they accidentally hover on the tab may not be ideal for them.
Whether you like the tab previews on Microsoft Edge or not, you can always enable or disable the feature. Follow the steps below to know how to do it.
How to Turn On or Off Microsoft Edge Tab Previews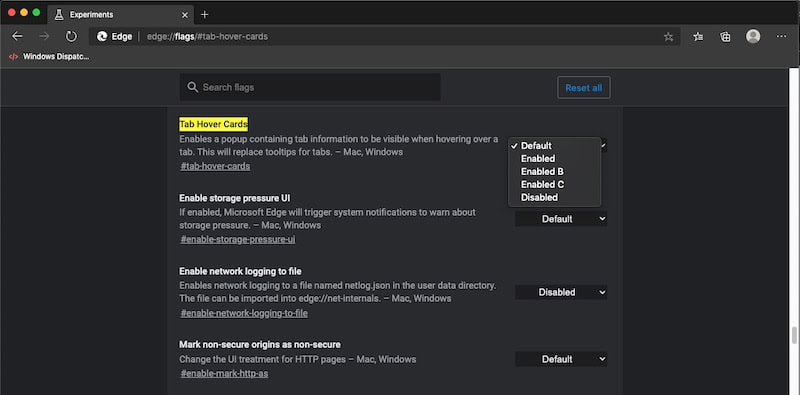 Open your Microsoft Edge browser.
On the address bar, type the following: edge://flags/#tab-hover-cards. Click Enter.
Next, select Tab Hover Cards.
On the right, click the down arrow and select Enabled or Disabled, depending on your preference.
At the bottom, click Restart.
Now, launch your Microsoft Edge browser and check your tabs.
SEE ALSO: How to Disable Tab Hover Cards on Google Chrome
How to Enable or Disable Tab Previews In Microsoft Edge Using Registry Editor
Another way to enable or disable the feature is by using the Registry Editor.
Open the Run dialog box by pressing Windows Key + R.
Type regedit and click OK.
Go to this path:
HKEY_CURRENT_USER\SOFTWARE\Classes\Local Settings\Software\Microsoft\Windows\CurrentVersion\AppContainer\Storage\microsoft.microsoftedge_8wekyb3d8bbwe\MicrosoftEdge\TabbedBrowsing
Under TabbedBrowsing, click New and select DWORD (32-bit) Value.
Rename the new key to TabPeekEnabled and click OK.
Set the value to O to disable the feature.
Click OK and close the registry editor.
To enable the tab preview, just delete the TabPeekEnabled key.
Did the article help you? Tell us in the comments below.