Google Chrome is one of the most used web browsers in the world. Users rely on its simplicity and functionality as their default browser on their devices. It also offers extensions and safety features that will protect your online activities.
However, you may encounter HTTP errors that will prevent you from accessing certain websites. One example is the HTTP error 431. Seeing the error code 431 will give you the error message, "This page isn't working. If the problem continues, contact the site owner. HTTP ERROR 431."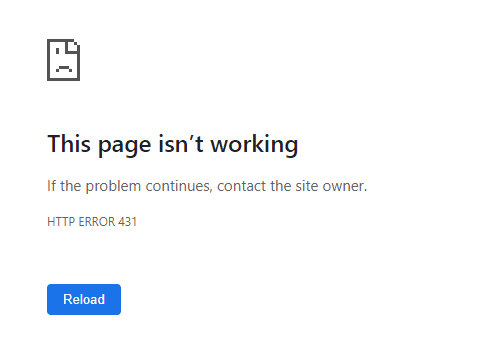 In some cases, it also shows the error message, "Bad Message 431. Reason: Request Header Fields Too Large." While most 4++ error codes are client-side issues, there are also instances when the problem occurs from the website's side.
How to Troubleshoot & Fix HTTP Error Code 431 on Google Chrome Browsers
HTTP error 431 happens due to several reasons. Sometimes, you may have too many site cookies and cache. Other times, your referrer URL is too long, or the request headers are too large for the server to process. In other cases, there are problems with the proxy server or the extensions. You can try to resolve the HTTP error 431 with the following solutions below.
Method #1 – Hit the Refresh Button
On your Google Chrome browser, locate the refresh icon near the address bar.
Click the button and wait for the website to reload.
Method #2 – Clear the Cache and Cookies on your Google Chrome Browser
Click the three-dotted icon found in the upper right corner of your Google Chrome browser.
Select Settings.
Go to Privacy and Security.
Select Clear Browsing Data.
Set the Time Range to All Time.
Check the boxes next to Cached images and Cookies.
Click Clear Data.
Method #3 – Check for Problematic Browser Extensions
Click the three-dotted icon on your Google Chrome browser.
Select More Tools.
Choose Extensions.
Look for possible extensions that may be causing the error and toggle the button to disable them.
Method #4 – Switch to Incognito Mode
Instead of using your regular browser, you can use private mode browsing.
Click the three-dotted icon on the top right corner of your browser.
Select New Incognito Window.
Enter the website on the address bar.
Method #5 – Disable Proxy Server
If you use a proxy server or VPN to browse on Google Chrome, you can turn it off and check again. If you must use a VPN service, try any of these premium service providers that are know not to interfere with your browser's security settings.
Method #6 – Update your Google Chrome Browser
Click the three-dotted icon on your Google Chrome.
Select Help.
Choose About Google Chrome.
Click Update Google Chrome.
After installing the latest update, click Relaunch.
What else did you do to fix the HTTP 431 error on your Google Chrome? You can share your solutions with us in the comment section below.