A haptic keyboard is a keyboard that provides tactile feedback to the user on mobile devices. This type of keyboard is becoming increasingly popular as people are looking for alternative ways to input text. One issue that can arise with haptic keyboards is that the touch feedback may not work correctly on iOS mobile phones. 
If you are experiencing the haptics issue, there are a few things you can try to fix it. In this blog post, we will go over how to fix haptic keyboard feedback response not working on an iPhone with iOS 16.
What is Haptic Feedback?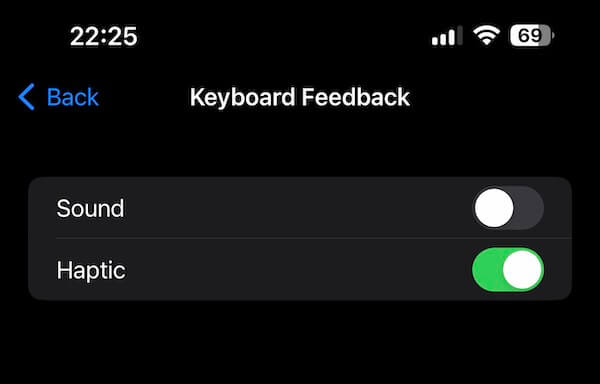 When you press a button on your iPhone's on-screen keyboard, you expect to feel a little vibration response letting you know that your input was registered.
This haptic feedback is generated by a small motor inside the phone that creates a tiny vibration when activated. iPhone users have come to rely on this haptic feedback to provide tactile confirmation of their inputs, but some users are reporting that their iPhones are no longer providing this input touch feedback.
TODAY'S DEAL: Amazing offers on latest iPhone series at Amazon, Walmart & BestBuy!
How to Troubleshoot & Fix Haptic Keyboard Touch Feedback on iOS 16 Devices Not Working on iPhone
If you're not getting haptic feedback when you type a text message on your iPhone keyboard, there are a few things you can try to troubleshoot the touch response problem and fix the issue on your device. 
First, make sure that haptic feedback is turned on in your iPhone's settings. To do this, go to Settings > General > Accessibility and scroll down to the "Haptics" section. 
If the switch next to "Haptic Feedback" is turned off, turn it on and see if that fixes the problem.
If haptic feedback is already enabled in your settings but you're still not getting any vibration when you type, try restarting your iPhone. This will often fix small software issues that could be causing the problem.
If restarting your iPhone doesn't help, the next thing to try is resetting your iPhone's settings.
This will restore your settings to their default values and may fix the haptic feedback issue. To reset your settings, go to Settings > General > Reset and tap "Reset All Settings."
If none of these tips solve the problem, there may be an issue with your iPhone's hardware. In this case, it's best to take your iPhone to an Apple Store or an authorized Apple service provider for diagnosis and repair.
Other Tips to Improve Haptic Feedback on iPhones
Check For a Software Update
After updating your iPhone, try using the haptic keyboard feedback feature again to see if it works as expected. If it doesn't, there are a few other troubleshooting steps you can try to get things working again even with the latest iOS version installed.
Adjust your Keyboard Settings
If you're not happy with the haptic feedback you're getting from your iPhone's keyboard, you can adjust the settings to get a different response. To do this, go to Settings -> Sounds -> Keyboard.
There are three options for keyboard haptic feedback: Light, Medium, and Heavy. Each option provides a different level of feedback, so you can experiment to see what works best for you.
You can also adjust the vibration intensity of the keyboard by going to Settings -> Accessibility -> Vibration. Here, you can choose between Low, Medium, and High intensity levels.
You may experiment with the different settings until you find the perfect haptic feedback for your needs.
Delete the Offending App
You can uninstall some apps you don't need manually. However, to do this FASTER, open the Settings app and tap on General. Scroll down to the bottom and tap on Reset. Choose the option to "Reset All Settings." This will delete all the apps from your iPhone, so make sure you have backups of any important data before proceeding.
DON'T MISS: The latest deals on the newest iPhone models at Amazon, Walmart & BestBuy!