As a Microsoft Outlook for Mac user, few things are more irritating than seeing the dreaded "Rules not supported for this account" error message when trying to create email filters and workflows on your Apple computer.
Unable to automatically organize, tag, and route messages, your inbox becomes a chaotic mess. But with a few targeted troubleshooting techniques, you can get Outlook rules functioning properly again on your Apple iMac, MacBook Pro or Air or Mac Mini devices.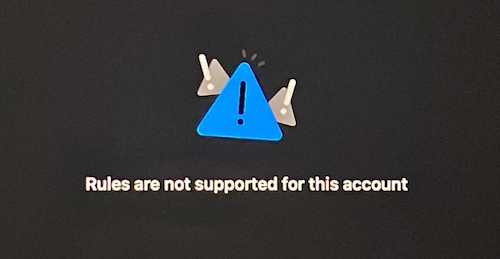 How to Troubleshoot and Fix Rules Not Supported for This Account Error on Microsoft Outlook App for Mac Computers
Follow this detailed guide to finally fix those stubborn "Rules not supported" errors on Outlook email client for MacOS devices.
Roll Back to the Legacy Outlook for MacOS App
If you only started seeing the rules error after recently updating to the new Microsoft Outlook for Mac app, switching back to the previous legacy version is worth a try. The old Outlook for Mac built-in support for local client-side rules.
To revert to the legacy Outlook app:
Launch Outlook and select Help > Check for Updates from the menu bar
In the update window that appears, click on the "Stay on my current version of Outlook" option
This will roll your Outlook version back to the previous legacy app
Fully quit Outlook with Command+Q and relaunch the legacy version
Attempt to create your desired rules again in the old Outlook for Mac app
With luck, your rules will now work using the legacy version which has better support for local rules.
Configure Rules Through Outlook Web App
If the legacy Outlook downgrade trick doesn't work, try setting up your rules through Outlook Web App (OWA) instead. OWA utilizes server-side rules which may be functional even if local Mac rules fail.
To set rules via OWA:
Visit outlook.office.com and log into your email as usual
Click the Settings gear icon > Options
Select Mail from the left menu
Click Inbox Rules in the right pane
Set up your new rules here the same as in desktop Outlook
Double check with your IT admin that server-side rules are enabled for your organization's Office 365 or Exchange accounts.
Force Quit and Relaunch Outlook on your MacBook or iMac
Before getting too deep in the weeds, try force quitting and relaunching the Outlook for Mac app. Corrupted temporary cache files or stuck processes could be preventing rules from working properly.
To force quit Outlook:
Click the Outlook icon in your Mac's dock and hold the Option key
The Quit option will change to Force Quit
Select Force Quit to forcibly terminate the Outlook process
Then launch Outlook again as usual
This restart flushes out any gremlins and reloads Outlook fresh.
Delete and Re-add Your Email Account
If your Outlook rules previously worked but later began showing errors, removing and re-adding your account may do the trick. This essentially resets your account configurations.
To delete and re-add your mail account:
Go to Outlook > Preferences > Accounts
Select your problem account and click Remove > Delete from Disk
This removes the account and all local data from your Mac
Completely quit and relaunch Outlook
Re-add your account using your full email address and password
Sync will rebuild your mailbox from the cloud or server
Hopefully this fresh linking of your account fixes the missing rules issue.
Get Help from Microsoft Support
If you continue to get the "Rules not supported" error after exhausting the above options, it's time to get professional help from Microsoft's support wizards:
Thoroughly review Outlook for Mac's help documentation for troubleshooting recommendations
Post on the Outlook for Mac community forum for input from Microsoft staff
Initiate a chat or phone support session with Outlook customer service to diagnose your account
Have them check server configurations and mail database integrity for corruption
With their advanced tools and access, Microsoft support can pinpoint what is blocking rules from working correctly in your version of Outlook.