It happens that a trend in the web browsers made web addresses shorter when appearing in the URL address bar. Instead of seeing the full address with the https and the www, you will only see the name of the website and its corresponding suffixes.
While it is not affecting browsing activities, some users are not comfortable with it. They would prefer seeing the entire URL and knowing where they are going rather than just a piece of the address.
Like Firefox, Google Chrome is trying to satisfy its users with a new feature that will show the full URL of the web addresses they are visiting. The feature is in a hidden flag and before using it, users need to enable the function. Currently, the new feature is available in Chrome Canary.
If you want to try this function and make your web addresses appear in full URL, you can navigate to the flags option in Chrome. Follow the steps below to help you enabled the function and start using it on your address bar.
How to Enable Always Show Full URL Address in Google Chrome
Make sure you have the latest version of Google Chrome browser or the Chrome Canary.
Open your Google Chrome browser.
Type chrome://flags and search for "Context menu show full URLs".
Another way to directly go to the context menu option is to type chrome://flags/#omnibox-context-menu-show-full-urls.
Look for Context menu show full URLs and on the right side, set it to Enabled.
Click Relaunch at the bottom to restart your browser.
Once Chrome has fully started, right-click on the address bar.
Select Always show full URLs.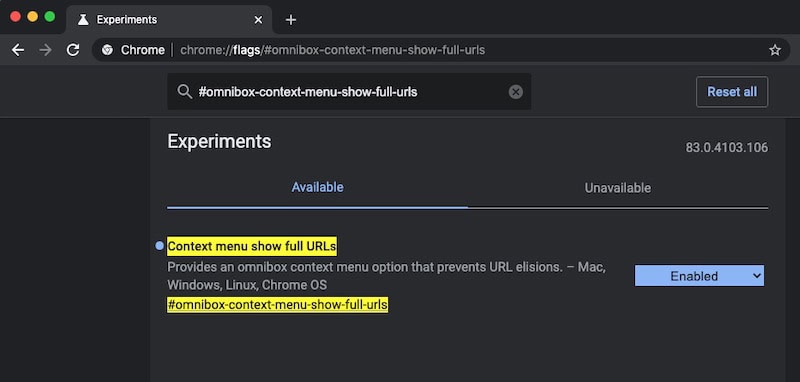 Follow the steps above, and you can always see your web addresses in full URLs. If you want to disable the function, right-click on the address bar and uncheck the option.
Keep in mind that the current function in Chrome is still at its experimental stage. Chances are, it can be removed by Google anytime. What do you think of this hidden flag in Google Chrome? We would love to know your thoughts, so drop us a comment below.