Facebook launches a new section that will make your day more informative and worthwhile. With the curation of Facebook Groups, Marketplace, Watch, and others, Facebook gives you the News section in your mobile app.
The News section is going live in the UK, and soon, Facebook will expand its reach to other countries worldwide. The Facebook News feature will curate stories from national and local news channels. There will be content from local and lifestyle outlets.
Facebook is partnering with existing publishers like The Independent, The Economist, The Guardian, Cosmopolitan, Vogue, GQ, Glamour, STV, and Wired. They will also partner with local news sites like JPI Media, Reach, Archant, Midlands News Association, and Iliffe.
Facebook is also introducing new publishers into the News section. New partners are Channel 4 News, Financial Times, the Daily Mail, Sky News, DC Thomson, and Telegraph Media Group.
How Does Facebook News Section Work?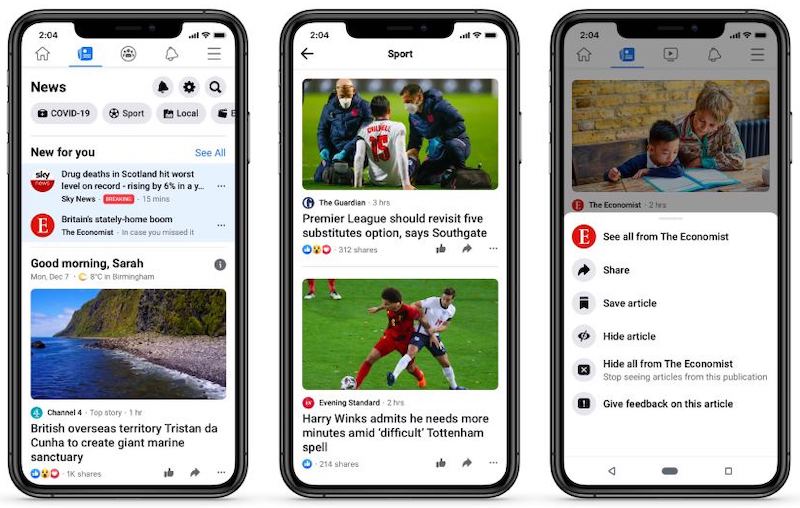 Similar to other sections on the Facebook mobile app for Android and iOS devices, Facebook News will feature stories each day. It will curate personalized news content for easy scanning. The news will be based on the user's interest. You can personalize the publishers appearing on your feed as well as the articles and topics.
It is also a beneficial move for publishers. With the News section, they can reach more audience and have greater exposure to the market.
Now, if you want to personalize your News section, you can block out publishers and topics that you don't like to appear on your feed.
Control What you See by Blocking Publishers or Topics on Facebook News
To block out topics or publishers on your Facebook News on Android phone or iPhone, you need to access the section first. Here's how to do it.
On your Facebook mobile app, tap the three-bar menu on top.
Tap News.
Look for the publisher you want to block.
Tap the three-dotted icon next to its story.
Select Hide all from (name of the publisher).
To block topics, go to the bottom of your feed.
Tap Choose your Sections.
Select Update Settings.
Look for the topic you want to remove.
Toggle the button to Off.
With Facebook News, you can have all the stories you want from your favorite news site in one place. Are you excited to see the Facebook News section? Let us know in the comments below.