There are times when you need to locate your Router IP Address. While in normal circumstances, you don't need to know your devices' IP Address, there are instances like configuring a software, troubleshooting network, or for a VoIP call that you need to know your IP Address.
First, what is an IP Address? Devices have special identifications and not just the brand or the model number that they came with. When networks want to identify devices, they are using the IP Addresses. IP Address stands for Internet Protocol address. It is a unique combination of numbers that is used to identify your specific device.
Now, when you need to find or view your IP address, there are several ways on how to do it depending on which device you are using to check it. This guide will help you find the router IP address on Windows 10 PC, Mac computer, Chromebooks, iPhone/iOS or Android mobile devices.
How to Find the Internet Router IP Address using Windows 10 PC, Mac, iPhone or Android
Check out the methods below based on your specific device.
Find Router IP Address on Windows 10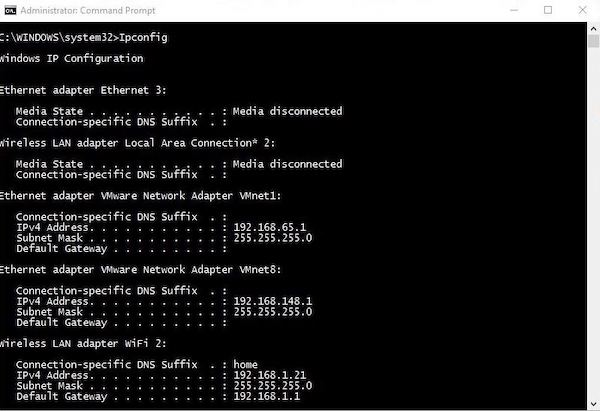 You can use either the Windows PowerShell or the Command Prompt in Windows 10.

To launch the PowerShell, right-click on the Start button and click the Windows PowerShell.
To launch the Command Prompt, you can search cmd.

Type IPCONFIG and hit Enter.
Look for Default Gateway. Beside it, you will see a list of numbers. That is your IP Address.
Find Router IP Address on MacOS Computer
If you are using Mac, launch the System Preferences.
Select the Network icon.
Click your WiFi network. Don't be confused when you see an IP Address listed. You will need the Router IP Address.
Click Advanced.
Navigate to the TCP/IP tab.
Look for Router and the numbers beside it is your IP Address.
Find Router IP Address on iPhone/iOS Devices
Navigate to the Settings of your phone.
Tap WiFi.
Tap on your WiFi network.
Look for Router and next to it is your IP Address.
Find Router IP Address on Android Devices
Go to Settings.
Tap the WiFi Settings.
Select your WiFi network.
Tap Manage Network Settings.
Check the option Show advanced options.
Under the IP settings, select Static.
Go to the Gateway section and you will find your IP address.
Find Router IP Address in Chrome OS
A lot of users are now using Chromebooks. If you want to view your router's IP address on Chrome OS, follow these steps:
On your Chromebook, click on the notification area at right side of your taskbar.
Click the "Connected to [Network Name]" option in the pop up list.
Click the name of the wireless network that you are connected to.
On the network information setting, click the "Network" tab to view the router's IP address listed as "Gateway."
Was the article helpful? Let us know in the comments below.