Samsung Galaxy Buds lets you enjoy ambient music, so you can immerse in your favorite tunes regardless of where you are. You can connect your Galaxy Buds earphones to your mobile phone, tablet, smartwatch, smart TV, or laptop/desktop computer using a Bluetooth connection. That way, you can enjoy solitary listening to podcasts and songs in any device you use.
However, some users found it difficult to connect their Samsung Galaxy Buds earbuds to their Windows 10 PC. The Galaxy Buds connects and pairs to Bluetooth automatically. However, an error appears when Windows 10 PC cannot locate or find the Galaxy Buds for device pairing. The earbuds is not working or not showing up in the list of available devices.
How to Fix Samsung Galaxy Buds Earbuds Can't Connect or Not Showing Up on Windows 10 PC
If you face the same issue with your Samsung Galaxy Buds, and you won't be able to find it or can't connect to your earbuds, there are several ways to resolve the problem. You can follow each solution below and retry connecting your Samsung Galaxy Buds to your Windows 10 PC to see if it works. This method works for Galaxy Buds Pro, Galaxy Buds Live, and Galaxy Buds+.
DON'T MISS: Get your Samsung Galaxy Buds at Amazon with these Amazing Discount Offers!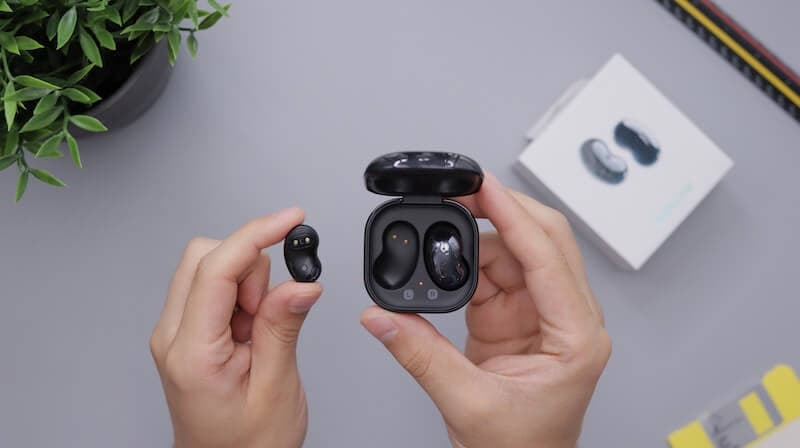 Method #1 – Restart your Windows 10 PC
Sometimes, a quick reboot of your devices will help refresh their system processes and connections. It fixes some problems that may disrupt your activities and cause your device not to work properly. Exit all apps on your computer and restart them. Once done, try to reconnect your Samsung Galaxy Buds earbuds.
Method #2 – Turn Bluetooth On and Off
If a reboot does not work, you can restart your Bluetooth connection. Try to disable and enable it again to troubleshoot the issue.
Launch the Settings menu.
Go to Devices.
Select Bluetooth & other devices.
Look for the Bluetooth option.
Toggle the button to Off.
Then, toggle it back to On.
Method #3 – Rediscover your Galaxy Buds on Bluetooth
Open the Settings menu and go to Devices.
Select Bluetooth & other devices.
Next to the Add Bluetooth or other device, click the Plus sign.
Choose Bluetooth.
Now, place your Samsung Galaxy Buds inside its charging case.
Close the lid and wait for at least 5 seconds.
Open the case and turn on your Galaxy Buds.
Your PC will begin to discover your Samsung Galaxy Buds.
Method #4 – Re-Pair Samsung Galaxy Buds with Windows 10 Computer
CHECK OUT: Exclusive Deals on Galaxy Buds, Pro & Live at Samsung Official Store!
First, unpair your Galaxy Buds.
Go to the Settings menu and click Devices.
Choose Bluetooth & other devices.
Look for your Samsung Galaxy Buds, usually under Audio.
Click to expand the menu.
Click Remove device.
Now, pair it again to your Windows 10 PC.
Under Bluetooth & other devices, click the Plus sign.
Select Bluetooth.
It will start to discover your Galaxy Buds.
Method #5 – Run Windows 10 Hardware and Device Troubleshooter
Navigate to the Settings menu.
Select Update & Security.
Click Troubleshoot in the left panel.
Click Additional troubleshooters.
Select Bluetooth.
Click Run the troubleshooter.
Did any of the methods above fix your Galaxy Buds error? If not, do you have other solutions that can repair the Bluetooth issue? You can share your answers below to help other users with their Samsung Galaxy Buds connection problems on PC.