Online advertisement offers wider exposure to your target market. You may have an extensive marketing plan on your website but it is more effective to have a wider reach when your brand appears on related websites. Google can help you reach your target market better.
If you want Google to show your advertisement on related websites, you can sign up on Google AdWords. Google will keep your ads running and all you have to do is pay for the cost.
How Do You Pay For Google AdWords?
It is easy to pay for Google AdWords. When you want Google to run your ads, you will need to sign up for a Google Ads account. Now, when you want to pay for your ads, click the tools icon and go to the Billing section. Navigate to Make a payment and choose your payment option.
There are two ways to pay for your Google AdWords. First is manually paying your ads before it runs out. You have to add more money to keep it running. The Second is the automatic payment.
Some users have reported that they encounter a Google Payment error [OR-CAC-02]. The error message on Google Payments center says:
"An unexpected error has occurred. Please try again later. [OR-CAC-02]"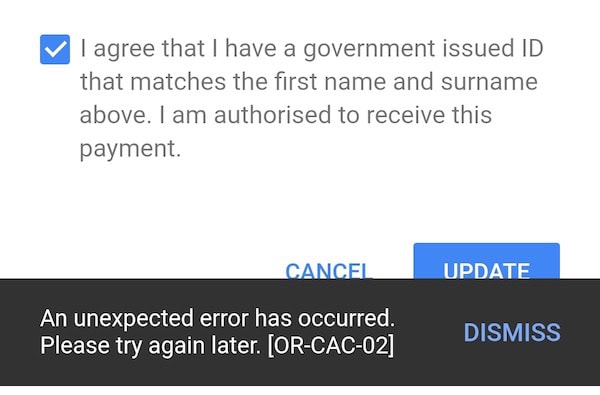 This particular issue also happens if you are making payments to various Google products and services not just AdWords. Some users experience this with Google Play and Cloud Storage services. If you are experiencing the same problem, there are ways on how you can solve the issue.
How to Fix Google Services Payment Error [OR-CAC-02]
Method #1 – Clear Your Browser Cache and Cookies
If you report the error to Google Adwords, they may say that it is an issue with your browser. You may want to clear your browser cache and cookies to help you fix the error.
On your browser, click the More option.
Go to More tools.
Select Clear browsing data.
Select the time range. You may want to click All time.
Check the cookies, browser cache, and other site data.
Click Clear data.
Method #2 – Verify Your Google AdWords Payment Account Profile
Some users have unverified Google Payment account hence, they see the error when they use the payment option.
To verify, access your Google account.
Go to Payments & subscriptions.
Look for the Payment methods section.
Click the Manage Payments method.
You will see in the section if your account is active or suspended.
If your account is not verified, follow the on-screen instructions to verify your account.
Method #3 – Update Your Browser
It may be an issue with your browser. Updating it may help you resolve the problem. To update your browser, go to the About page of your browser and check if there are updates available.
Method #4 – Add a New Payment Method
Try adding a new payment method and use it to check if you still encounter the error. You can add a different credit or debit card to your Google account. To add another payment method, access your Google account, and navigate to the Payments section.
If none of the methods above worked, try to contact Google AdWords support.
Did the article help you? Tell us in the comments below.